Last Updated on February 16, 2023 by arun
Whether your business is small or big you should be aware of the social media sites to promote any business for its long term survival in the market. Social media website or application enable the users to create and share content via social networking. It is an interactive computer-mediated technology that facilitates the creation or sharing of information, ideas, career interests and other forms of expression. In short, it refers to websites and applications that are designed to share content quickly. There are many types of social media apps such as messaging apps like WeChat, Messenger, Whatsapp and Snapchat, video sharing apps like youtube, photo sharing apps like Instagram, Pinterest and many more.  Facebook, Twitter, Linkedin, Tumblr are some of the examples of multipurpose apps. Now let us talk about these above-stated apps in detail:
Also check Pros and Cons of Social media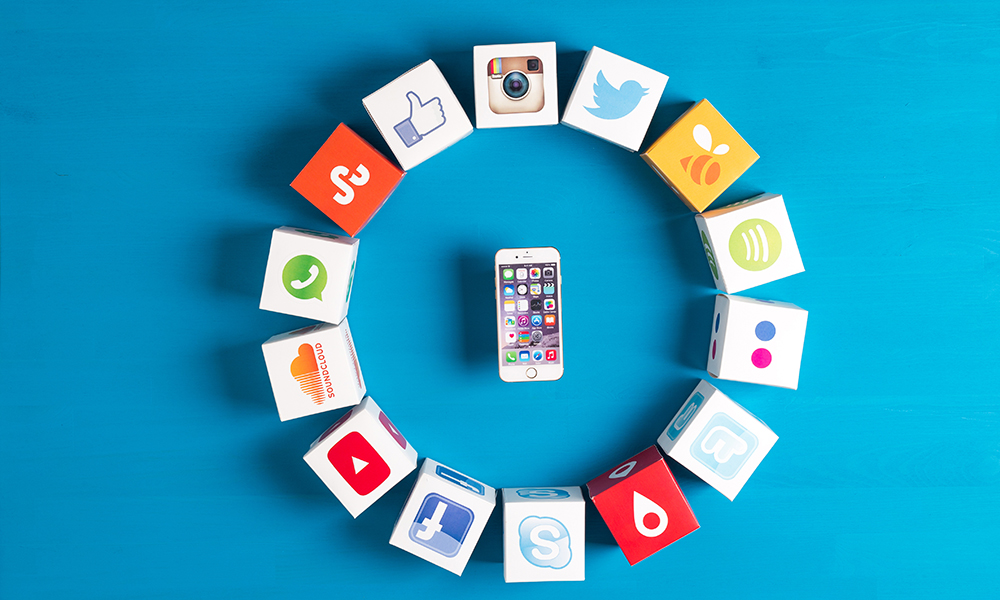 Top 15 Social Media Marketing Apps for Business
Facebook is

the largest social media site around, with more than a billion people using it. It is one-third of the total population of the world. It is very easy to get started on Facebook because almost all content format works on Facebook — text, images,

videos

, and 

stories

. It is helpful to run a business or on the other side can also be used for entertainment. At present, 

94 per cent of Facebook users access Facebook via the mobile app

.

YouTube

is a video-sharing platform where 

users watch a billion videos every day

. To get started, you can 

create a YouTube channel

for your brand where you can upload videos for your subscribers to view, like, comment, and share. In addition, being the second biggest social media site, YouTube owned by Google is also often known as the second largest search engine after Google. So if you want your brand to be on YouTube, then use YouTube.

Twitter

is a social media site for instant news, entertainment, sports, politics and others. It makes it different from other social media sites. It has a strong emphasis on real-time information that things are happening right now. For example,

one of the defining moments in the Twitter history

is when Janis Krums tweeted the image of a plane that landed in the Hudson River when he was on the ferry to pick the passengers up. Another unique characteristic of Twitter is that it only allows 280 characters in a tweet. One can tweet on this site about our feelings such as happiness, sad, emotional and many more.
Check : A beginners guide to use twitter
WhatsApp is a messaging app used by people in over 180 countries. Originally, WhatsApp was only used by people to communicate with their family and friends. Gradually, people started communicating for businesses via WhatsApp. WhatsApp has been building out its business platform to allow businesses to have a proper business profile, to provide customer support, and to share updates with customers about their purchases. For small businesses, it has built the WhatsApp Business app while for medium and large businesses, there's the WhatsApp Business API.
Instagram is a photo and video sharing social media app. It allows you to share a wide range of content such as photos, videos, stories, and live videos. Recently, it has launched IGTV for longer-form videos. As a brand, you can have an Instagram business profile, which will provide you with rich analytics of your profile and posts and the ability to schedule Instagram posts using third-party tools.
Reddit which is also known as the front page of the Internet. It is a platform where users can submit questions, links, and images and discuss them. After discussing one can vote them up or down. There are subreddits which is in dedicated forums. Subreddits have different levels of engagement so it is great to research to see if there are popular subreddits that your brand can be part of it. What's more, is submitting your content to Reddit and participating in discussions, we can also find content ideas and advertise on Reddit.
Also check : A beginner's guide to reddit marketing
LinkedIn is a topmost site for job seekers. It has evolved into a professional social media site where industry experts share content, network with one and another, and build their personal brand. It has also become a place for business to establish their thought for leadership and authority in their industry and gift talent to their company. It also offers advertising opportunities, such as to boost your content, sending personalized ads to LinkedIn inboxes, and displaying ads by the side of this site.
Pinterest is a place where people go to discover new things and be inspired, quite unlike most social media sites where engagement is the primary focus. According to Pinterest, 78 per cent of users say that content on Pinterest from brands are useful much higher than that on other sites. This gives your brand a unique opportunity to shape their purchasing decisions.
Messenger is used to be a messaging feature on Facebook since 2011. Facebook has made Messenger into a standalone app by itself and greatly expanded on its features. There are many features in this app for a successful business such as create chatbots, send newsletters, and more on it. These features have given businesses a myriad of new ways to engage and connect with their customers.If you are thinking about using Messenger for your business, there are many ways to use in your business.
WeChat:

It is

just like WhatsApp and Messenger but now users can use WeChat to shop online and make the payment offline, transfer money, make reservations, book taxis, and many more. WeChat is most popular in China and some parts of Asia. If you are doing business in those areas where social media platforms like Facebook are banned, WeChat could be a good alternative.

Tumblr is a microblogging and social networking site for sharing text, photos, links, videos, audios, etc. People share a wide range of things on Tumblr from cat photos to art to fashion. On the surface, a Tumblr blog can look just like any other websites. So many blogs that you come across online might be using Tumblr. If you want to use Tumblr as your marketing brand, it requires a written tag necessarily.
Tik Tok is also known as Douyin in China. It is a rising music video social network. It was the world's most downloaded app in the first quarter of 2018 competing Facebook, Instagram, and other social media apps. My initial impression is that it looks like Instagram for short music videos. Users can record videos up to 60 seconds or users can edit them,  add music and special effects in it. Tik Tok is also used for business as well as for entertainment for teenagers. In this app, we can share our feelings in the form of video with other people.
Viber

is similar to major social messaging apps such as WhatsApp and Messenger. It allows users to send messages and multimedia, call, share stickers and GIFs, and many more.However, this presents

many more opportunities for businesses

.In business, and we can buy ads, promote your brand through stickers, engage your community, display your products in the shopping section, and provide customer service.

Snapchat: Snapchat is

a social media app that focuses on sharing photos and short videos which are known as snaps. It made

the Stories format popular

, which eventually seems on other social media platforms like Instagram. But the increase in the followers of Instagram seems to have hindered Snapchat's growth and marketer's interest in using Snapchat.

Telegram is similar to most social messaging apps and which is also known as how secure it is as a messaging app. There are several ways by which we can make use of Telegram, besides providing one-on-one customer support. For example, brands can create chatbots for the Telegram platform or make use of Telegram's channel feature to broadcast messages to an unlimited number of subscribers.
It is most important to consider whether your brand's target audience is active on those social media sites or not. It is said that, larger social media sites, like Facebook, tend to cover a wide range of interests and topics, which makes it suitable for most brands.
Others popular remaining apps are Quora, Medium, WordPress is also very useful.
On DigitalYantras, I share my thoughts, and experiments with various digital marketing tools. I offer blogging, guest posting services . Let's connect on twitter and Linkedin